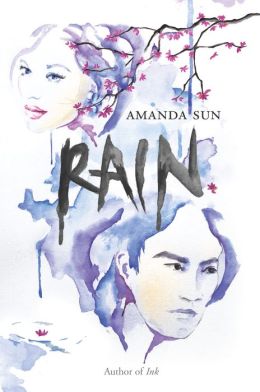 Title:
Rain
Author:
Amanda Sun
Release Date:
6/24/14
Publisher:
Harlequin Teen
Purchase:
Barnes and Noble
/
Amazon
When she first moved to Japan, American Katie Green had no idea she would get caught in a battle between the Japanese mafia and the supernatural forces that have governed Japan for most of its history. Despite the danger, Katie is determined to stay put. She's started to build a life in the city of Shizuoka, and she can't imagine leaving behind her friends, her aunt and especially Tomohiro, the guy she's fallen in love with.
But the decision to stay is not as simple as she thought. She's flunking out of Japanese school and committing cultural faux pas wherever she goes. Tomohiro is also struggling- as a Kami, his connection to the ancient gods of Japan and his power to bring drawings to life have begun to spiral out of control.
When Tomo decides to stop drawing, the ink finds other ways to seep into his life- blackouts, threatening messages and the appearance of unexplained sketches. Unsure how to help Tomo, Katie turns to an unexpected source for help- Jun, her former friend and a Kami with an agenda of his own. But is Jun really the ally he claims to be? In order to save themselves, Katie and Tomohiro must unravel the truth about Tomo's dark ancestry, as well as Katie's, and confront one of the darkest gods in Japanese legend.
My Thoughts:
The legend behind the Kami is tragic and beautiful, just as the love between Katie and Tomohiro is dangerous and electric.
I could not wait for this book to come out so I could get my hands on it, and I was not disappointed. Amanda Sun does an amazing job of pulling the reader into the book and dropping them off in the middle of Shizuoka, Japan. I could not put this book down! I felt as if I was traveling with Katie through all her struggles and discoveries. I felt her pain and her joy as I read this book.
This book answers questions about who Katie, Tomohiro, and Jun really are. This book leaves readers wanting more, more, more.
Katie and Tomohiro's relationship heats up and cools down. When you throw a dash of Jun into the mix the temperature turns up and the tensions rise. You'll get alot of mystery, romance, and an amazing story in this second edition. I cant wait for the third!!!
5 out of 5 Stars!!!