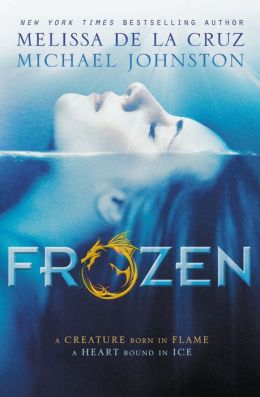 Title: Frozen (Heart of Dread #1)
Author: Melissa de la Cruz; Michael Johnston
Release: 9/17/13
Publisher: Penguin Young Readers Group
Purchase:
B&N
/
Amazon
WELCOME TO NEW VEGAS, a city once blanketed in neon, now covered by ice. Like much of the planet, New Vegas only knows one temperature - FREEZING.
At the heart of the city is Nat, a sixteen-year-old blackjack dealer looking for a way out. She's heard rumors of the Blue: a hidden paradise buried somewhere within the barren icy wasteland of the world. It's a place where Nat won't be persecuted, even if her darkest secret comes to light. But passage to the Blue is treacherous, and Nat's only hope is a young ragtag crew who may be almost as unqualified as she is to survive the journey.
My Thoughts:
The idea of the world being "frozen" is not an out of this world idea. And the fact that New Vegas is still full with the worst of human desires, makes the story feel like it could be a near future reality. These ideas make this book one I was excited to read.
As I read through the first half, I was disappointed. The characters felt rushed, but the plot line moved very slow. I felt the characters were not developed well. I would have liked more dialogue and interaction between the characters. This being said, the setting development is amazing! I could picture the places the characters were, and could even get a good sense of what the world is like in Frozen.
The first half is slow, but once the journey is in full swing the story explodes! More character development as well as romance and action make the second half worth the wait.
Frozen, is a post-apocalyptic world filled with death, destruction, beauty and magic. This is a story that leave you wanting the next installment. Once you get through the beginning, the rest of the story is well written and gripping. I would recommend this book for a quick fall read.
3 out of 5 stars