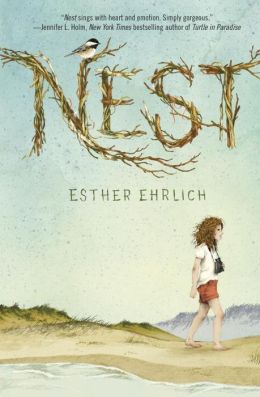 Title:
Nest
Author: Esther Ehrlich
Release: September 9, 2013
Publisher: Random House Children's
In 1972 home is a cozy nest on Cape Cod for eleven-year-old Naomi "Chirp" Orenstein, her older sister, Rachel; her psychiatrist father; and her dancer mother. But then Chirp's mom develops symptoms of a serious disease, and everything changes.
Chirp finds comfort in watching her beloved wild birds. She also finds a true friend in Joey, the mysterious boy who lives across the street. Together they create their own private world and come up with the perfect plan: Escape. Adventure. Discovery.
My Thoughts:
Nest is a beautifully written story about friendship and love conquering grief and worry. Ehrlich does an amazing job of writing the story from Chirp's point of view. From the beginning I found myself engrossed in Chirp's play full imagination. I was enthralled by the way Chirp and Joey could create a world all their own and immerse themselves into the adventure they created.
I enjoyed every part of this book. I was laughing and crying throughout this entire story. All I can say is this book is perfect for middle grade and above. Anybody could pick up this book and fall in love with the characters. The story is the perfect example about how children find comfort in wondrous and beautiful things. I loved this book!!!
5 out of 5 stars.